Protect the health and well-being of your family and employees and keep your HVAC (Heating Ventilation Air Conditioning) systems running smoothly with A1 Quick Heating & Air Conditioning Inc. air duct cleaning.
Dryer Vent Cleaning and A/C Check-up Helps Reduce Your Electric Bill. We offer Air Duct Maintenance, Cleaning and Sanitizing, Coil Cleaning-Line Cleaning that can help with your symptoms below:
Asthma
Bronchitis
Eye Irritation
Allergies
Sneezing
Night Coughs
Nasal Congestion
Headaches
Sinus Problems
Migraines
If you are suffering from these symptoms, contact us today (801) 800-6062
$185.00 FOR UP TO 6 VENTS. ELIMINATE BACTERIA AND MOLD. $14.99 PER ADDITIONAL VENT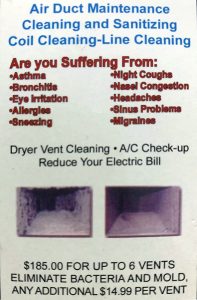 ---
Benefits of Air Duct Cleaning
Improved health – Contaminants in your HVAC systems can have adverse effects on your health. A1 Quick Heating & Air Conditioning Inc. air duct cleaning eliminates bacteria and fungus that often contribute to allergy and asthma symptoms and can aggravate other health concerns.
Improved air quality – Professional air duct cleaning significantly improves the air quality in your home or business in Layton through the systematic and qualified removal of dust, dirt, and debris trapped within your HVAC systems.
Improved energy efficiency – Cleaning your air ducts regularly ensures that your ventilation systems run more efficiently resulting in lowered heating and cooling costs.
A1 Quick Heating & Air Conditioning Inc. air duct cleaning removes many common contaminants that include:
Toxic mold
Dust and dust mites
Vermin, rodents, or insects
Wood shavings, drywall dust, and carpet fibers
Pollen
Pet dander
Unnecessary moisture
Air Duct Inspections
Improving the indoor air quality in homes and businesses across the Layton area has become a major concern. A1 Quick Heating & Air Conditioning Inc. professionals clean air ducts and replace worn out air filters. We offer annual maintenance inspections of the air ducts within your heating and cooling systems to ensure they are functioning properly and last longer.
Air Duct Cleaning Package
Our air duct service package in the Layton area includes:
Services performed by a qualified and experienced HVAC technician
Air duct inspection
Thorough cleaning of all grilles and registers
Cleaning of all main supply, return and branch ducts
Industrial vacuuming
Filter cleaning or replacement
For a free estimate and in the Layton region, call the air duct specialists at (801) 800-6062.